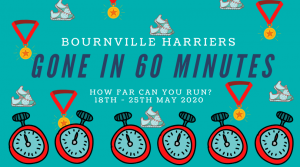 With yet another spring Bank Holiday weekend on the horizon we've got another virtual team challenge for you!
The concept is simple: how far can your team get in 60 minutes?
Teams of three. Each member of the team runs for 20 minutes, measuring (either on your watch or on strava) how far they get. The results of the three team members will be added together, with the team who travelled the furthest in 60 minutes being declared the winners!
As a little virtual twist, all teams will be allocated randomly – so who knows which fellow BvHers you could be lining up with…
To sign up, please complete the google form below by the 16 May. Teams will be allocated and announced on 18 May: Gone in 60 Minutes Entry Form.
All runs must be completed and submitted by the evening of 25 May.
Rules
Participation in the challenge is open to Bournville Harriers club members only (i.e. those who were members as at 31 March 2020, or members who have renewed/joined for the new membership year 2020-2021).
Measure your run either on your watch or on Strava. Results should be submitted IN MILES up to 2 decimal places (e.g. 3.17 miles).
Run your 20 minute leg anytime between 18 May and 25 May
There will be a grace period of a few seconds over/under 20 minutes, so don't worry if you don't stop your watch bang on 20 minutes!
You can stop and restart your watch during your run if you need to (crossing roads, traffic lights, pedestrians etc).
Upload a picture of your watch/strava segment (and a selfie!) to the BvH Facebook group with the hashtag #gonein60minutes. Please ALSO submit your result via this google form (this will make compiling the results much quicker): Gone in 60 Minutes Results Form
You don't need an actual relay handover – team members can run in any order, on any route you choose.
This is a great opportunity to get to know some fellow BvHers you may not usually run with, so do feel free allocate team names/plan team kit/generally have fun with it!
Please adhere to the social distancing guidelines at all times. This includes:

Where possible, stay local
Do not arrange to meet anyone from outside your own household
If you pass anyone, be sure to keep 2 metres away, and do take the initiative to move out of their way
Do not leave your home if you are showing symptoms
England Athletics' coronavirus statement can be found here: https://www.englandathletics.org/athletics-and-running/news/coronavirus-statement/
Thanks to Imogen Peck for organising this virtual event!