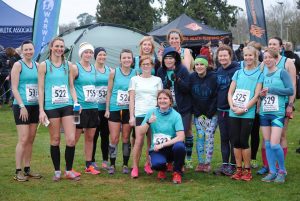 The first Cross Country race of the New Year was the Warwickshire & Worcestershire County Championships hosted by Warwickshire in the beautiful parklands surrounding HMPSC, Newbold Revel. It was also the first outing of the new club tent, which was not needed for the weather, cold as it was it remained dry, but it with the size of the club turnout (39 runners and plenty of supporters!) it was great to have a smart new base for events. Thanks to Suzanne Bunn for the excellent photos of the event!
Tom Bunn was the club's sole representative in the Under 20's race, finishing in a very respectable 46th position after a run of excellent recent results.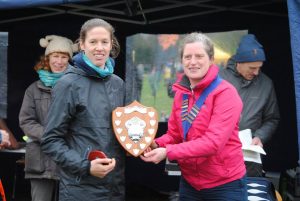 The Women's 6km race was next and saw Nicola Sykes in imperious form finishing well ahead of her nearest rival to take first place in a competitive field. Jess Bond and recent joiner Sara Foster completed the Senior Women's team in 43rd and 62nd place respectively for the senior women's team to finish in overall 4th position. Excellent results for Monica Baptista, Alison Price and Laura Gale (14th, 15th and 28th in the Masters' Race) saw the master's women finish in 6th place and the rest of the squad also put in some great performances across the board.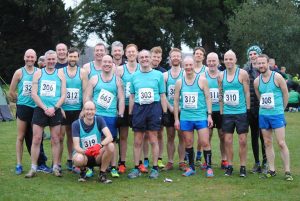 In the Men's 10km race it was the Masters who led the charge with Paul Thompson, Richard Bayliss, Kevin Morris and Mat Pollard in 5th, 9th, 10th and 16th place respectively in the Masters' Race and taking home Silver Medals with some more great performances throughout the field from the men in teal.
Away from Warwickshire we were also represented in County XC races elsewhere by Dave Powner (Staffordshire) and Henry Brocklehurst took the individual Silver medal in another great performance in his home County Championships race in Humberside.
There's not long to wait until the next Cross Country action on 12th January when the Men's League Race 3 will be held at Burton Dassett Hills Country Park, hosted by Spa Striders and the Women's League race takes place at Droitwich High School, hosted by Droitwich AC. Both teams are in a great position going into the second half of the season so please contact Rhian or James if you're interested in taking part and hopefully helping to secure promotion to Division One.
Women's 6km Results:
| | | |
| --- | --- | --- |
| 1 | 20:42 | Nicola Sykes |
| 43 | 25:03:00 | Jessica Bond |
| 52 | 25:28:00 | Monica Baptista |
| 54 | 25:34:00 | Alison Price |
| 62 | 26:05:00 | Sara Foster |
| 74 | 26:29:00 | Laura Gale |
| 76 | 26:38:00 | Heather Tyrie |
| 83 | 26:47:00 | Sarah Rock |
| 90 | 27:01:00 | Sara Hewison |
| 91 | 27:05:00 | Jo Green |
| 94 | 27:15:00 | Rhian Littlewood |
| 119 | 28:38:00 | Emma Whigham |
| 120 | 28:38:00 | Emma Hawkey |
| 123 | 28:47:00 | Nicola C Morris |
| 126 | 29:02:00 | Jude Glynn |
| 134 | 29:37:00 | Sam Pretlove |
| 142 | 29:50:00 | Pauline Wright |
| 163 | 31:39:00 | Caroline Ankcorn |
| 168 | 32:34:00 | Suz West |
| 192 | 34:53:00 | Anna McManus |
Men's 10km Results:
| | | |
| --- | --- | --- |
| 36 | 35:38:00 | Paul Thompson |
| 55 | 36:38:00 | Richard Bayliss |
| 57 | 36:41:00 | Kevin Morris |
| 69 | 37:22:00 | Matthew Pollard |
| 74 | 37:44:00 | Iain Jones |
| 84 | 38:07:00 | Richard Keep |
| 116 | 39:36:00 | Stuart Pearson |
| 118 | 39:38:00 | Grant Whigham |
| 119 | 39:39:00 | Ian Faddy |
| 131 | 40:06:00 | Sean Rose |
| 138 | 40:14:00 | Andrew Hall |
| 139 | 40:25:00 | Andrew Hoole |
| 211 | 44:07:00 | Andrew Wheeler |
| 215 | 44:14:00 | Ian Mackenzie |
| 241 | 45:31:00 | Richard Shearing |
| 289 | 49:00:00 | Guy Marston |
| 298 | 49:52:00 | Stuart Crowton |
| 318 | 56:58:00 | John Cheel |