The fantastic Sue Ward and Rachel Partridge organised some lovely weather for the final race of the BvH Tour and the Pyjama Pursuit route was put to use for another slightly undulating race, but thankfully this one was over more quickly as everyone was ready to wrap up a tough but enjoyable week of running.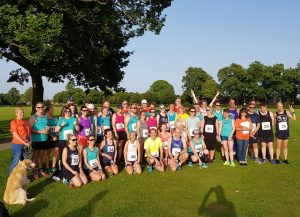 The after-party at Rowheath Pavilion was a great occasion with everyone comparing their notes, splits and niggles over a beer or two and some great food from Chris Hughes and team. Recover well now Tealsters!
Huge congratulations to the BvH Tour Champions Mat Pollard and Lorna Al-Ani, all of the age category winners and everyone who completed the full Tour. Thanks again to all the marshals and helpers this week; the Tour could not happen without you!
The results are as follows…
Men's Overall Standings
Male
Pos
Num
Name
Cat
Total
Time
Cat
Pos
1
33
Matthew Pollard
M35
2:39:48
1
2
1
Andy Hoole
M35
2:52:33
2
3
29
John McKeon
M40
2:54:10
1
4
19
Ian Mackenzie
M45
3:00:45
1
5
57
Xenofon Gogouvitis
M40
3:02:01
2
6
45
Sean Rose
M45
3:02:28
2
7
25
Jim Clarke
M45
3:09:50
3
8
15
Dave Powner
M45
3:12:13
4
9
5
Antony Stewart
M55
3:14:44
1
10
41
Pete Hickman
M60
3:18:29
1
11
35
Michael Greenhouse
M50
3:20:58
1
12
47
Stewart Crowton
MO
3:26:47
1
13
17
Guy Marston
M55
3:27:38
2
14
23
James Gittins
M50
3:29:59
2
15
49
Steve Doswell
M60
3:42:48
2
16
27
John Cheel
M60
3:45:49
3
17
39
Paul Samuels
M50
3:48:05
3
18
3
Anthony Hayward
M50
4:32:12
4
Women's Overall Standings
Female
Pos
Num
Name
Cat
Total
Time
Cat
Pos
1
30
Lorna Al-Ani
F35
3:05:48
1
2
34
Monica Baptista
F35
3:07:52
2
3
24
Laura Gale
F40
3:21:22
1
4
18
Jude Glynn
F55
3:25:39
1
5
12
Emma Hawkey
F40
3:40:20
2
6
48
Stacey Marston
F40
3:49:47
3
7
28
Lisa Thompson
F50
4:09:35
1
8
40
Philomena Williamson
F60
4:14:25
1
9
20
Kayleigh Chapmalin
FO
4:24:12
1
10
4
Caroline Ankcorn
F50
4:28:21
2
11
26
Lesley Pymm
F65
5:11:58
1
12
32
Michelle Burgess
F50
5:43:32
3
Individual Results Race 5
| | | | | | |
| --- | --- | --- | --- | --- | --- |
| Time | Name | Gender | Cat | Gender Pos | CatPos |
| 19:46 | Matthew Pollard | M | M35 | 1 | 1 |
| 20:19 | Simeon Whiting | M | M40 | 2 | 1 |
| 20:37 | Andy Hoole | M | M35 | 3 | 2 |
| 20:51 | Tim Ogbourn | M | MO | 4 | 1 |
| 21:37 | Andrew Wheeler | M | M50 | 5 | 1 |
| 21:44 | Monica Baptista | F | F35 | 1 | 1 |
| 21:45 | Ian Mackenzie | M | M45 | 6 | 1 |
| 21:46 | Sean Rose | M | M45 | 7 | 2 |
| 21:54 | Alison Price | F | F35 | 2 | 2 |
| 21:57 | Victoria Read | F | FO | 3 | 1 |
| 22:16 | Lorna Al-Ani | F | F35 | 4 | 3 |
| 22:20 | Jim Clarke | M | M45 | 8 | 3 |
| 22:21 | Dave Powner | M | M45 | 9 | 4 |
| 22:29 | John McKeon | M | M40 | 10 | 2 |
| 22:31 | Mark Allen | M | M45 | 11 | 5 |
| 22:34 | Xenofon Gogouvitis | M | M40 | 12 | 3 |
| 22:39 | Antony Stewart | M | M55 | 13 | 1 |
| 23:16 | Guy Marston | M | M55 | 14 | 2 |
| 23:16 | Michael Greenhouse | M | M50 | 15 | 2 |
| 23:21 | Sarah Rock-Webster | F | F40 | 5 | 1 |
| 23:33 | Pete Hickman | M | M60 | 16 | 1 |
| 23:41 | Sara Hewison | F | F50 | 6 | 1 |
| 23:59 | Stewart Crowton | M | MO | 17 | 2 |
| 24:06 | Sara Foster | F | FO | 7 | 2 |
| 24:15 | James Gittins | M | M50 | 18 | 3 |
| 24:22 | Laura Gale | F | F40 | 8 | 2 |
| 24:27 | Jude Glynn | F | F55 | 9 | 1 |
| 25:32 | Steve Doswell | M | M60 | 19 | 2 |
| 25:35 | John Cheel | M | M60 | 20 | 3 |
| 26:02 | Paul Samuels | M | M50 | 21 | 4 |
| 26:07 | Collette Greenhouse | F | F50 | 10 | 2 |
| 26:30 | Stacey Marston | F | F40 | 11 | 3 |
| 26:34 | Suz West | F | F40 | 12 | 4 |
| 27:28 | Pauline Wright | F | F55 | 13 | 2 |
| 28:25 | Emma Hawkey | F | F40 | 14 | 5 |
| 28:37 | Lisa Thompson | F | F50 | 15 | 3 |
| 28:47 | Sandrine Gacon | F | F45 | 16 | 1 |
| 29:28 | Anthony Hayward | M | M50 | 22 | 5 |
| 29:39 | Kayleigh Chapmalin | F | FO | 17 | 3 |
| 30:31 | Philomena Williamson | F | F60 | 18 | 1 |
| 34:34 | Nicola Tautscher | F | F45 | 19 | 2 |
| 36:09 | Caroline Ankcorn | F | F50 | 20 | 4 |
| 37:17 | Lesley Pymm | F | F65 | 21 | 1 |
| 37:59 | Alan West | M | M40 | 23 | 4 |
| 40:50 | Kristy Mabbett | F | FO | 22 | 4 |
| 41:41 | Michelle Burgess | F | F50 | 23 | 5 |