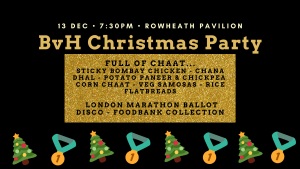 Join us at Rowheath Pavilion from 7:30pm on 13th December for an Indian buffet and Disco. This year's theme is Gold, but please dress however you feel comfortable (and maybe add a touch of tinsel!) The tickets are just £12 and it's sure to be a great evening and one of the social highlights of the calendar, if only for the novelty of seeing your clubmates wearing something other than lycra and high-vis!
As always there'll be a disco so get practicing those dance moves. We'll be looking for Raffle prize donations shortly and we will also be collecting for the B30 Foodbank on the night.
If you entered the main London Marathon Ballot and weren't one of the lucky ones to get a place, please email proof of your rejection to Dave Powner in good time before the draw at the Christmas Party. You must have been a club member in the 2018-19 year to enter the club ballot. Please note that if you win the draw you must pay for your own place, but we have two club places so the odds are much more favourable than the main ballot.
Family and guests of BvH members welcome! Please remember the safety (and entertainment!) of any under 18s attending is the responsibility of their accompanying adult. Tickets will be on sale until 6th December, NO entries on the night. Please let Kristy know if you have any questions.