Kristy Mabbett reports: We know you're all eagerly awaiting the results of the Big BvH Bake Off so here they are!
Firstly though I'd like to say a huge thank you to everyone who baked something, we've been so delighted by how many entries we've received and we've had a truly difficult time judging this! Everyone has put so much effort and thought into what they've made, and Rachel Enright has loved seeing all of the bakes in memory of John this week. So thank you all.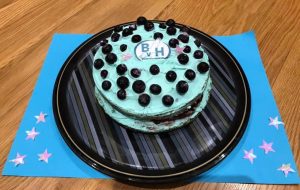 So as it's a BvH bake Off, the nod to BvH / teal / running has been a very influential factor in our decision making! We're delighted to announce the winner of the Big BvH Bake Off is Rachel Part Ridge with her Saturday Surprise cake, the surprise being for her that she never normally bakes anything! We loved this teal beauty. Congratulations Rachel!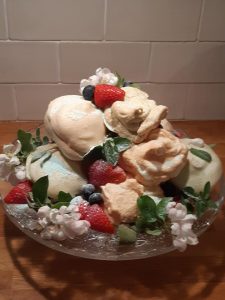 In close second, taking the silver medal is Suzanne Bunn with her stunning showstopper meringue tower, elegantly dusted in teal glitter. We all hope the children at Suzanne's school have enjoyed eating this gorgeous effort. It really was beautifully made, well done Suzanne!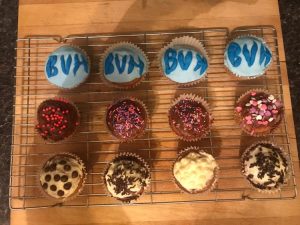 And our bronze medal winner is of course Rachel Enright who sent in the rather beautiful cakes made by Poppy for her dad John. They are such lovely little cakes with a much bigger meaning. Well done Poppy on your bronze medal! I'm sure these little beauties made everyone smile this morning.
As is tradition with BvH events there's a wooden spoon up for grabs. This is, of course, going to the baker who described the experience as 'traumatic' and had to go for a run after to recover from the stress – congratulations Jude Glynn – we loved your cake that fell apart!
We had some exceptionally stunning non-teal bakes sent in that we want to give a special mention to; we loved Mathilde Housley's Mille Feuille, Maeve Collins' red velvet cake and Guy Marston's 'beans on toast' which confused and delighted us in equal measure!
Tim Hodges' Yorkshire puddings have to get a mention as they are by far the best we've ever seen! And most creative ingredients of course go to Barrie Roberts for his dandelions and Rachel Hursey for her nettle soup! Ian Reynolds baked his first ever cake this week too, and managed to create the most perfect Victoria sponge imaginable! Well done Ian and we are delighted you've found a new hobby! Jo Whiting's peachy bum cake was obviously the cheekiest bake!
And finally I want to thank Claire Daniels and Imogen Peck for judging the competition with me, they've put a lot of time into studying all of the bakes this week and we had much debate and discussion to reach our conclusions, so thank you both! I hope you'll all agree this has been a lovely week of baking, and thank you all again. The next virtual events, running and non-running, are in the planning already so there's lots more to look forward to. Details coming soon! Take care all.